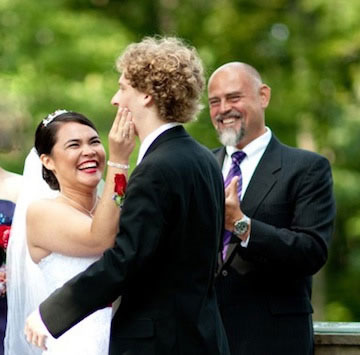 our wedding officiant
new york city
MARRIAGE LICENSE CALENDAR
When to get your NYC Marriage License ?
When to make your NYC Clerk appointment ?
Confused about the NYC Marriage License System? Don't worry! You are not alone, and Our Wedding Officiant NYC is here to help.

You can get a License that will be valid on your wedding day during a window from 60 days before your wedding until 24 hours before your wedding. You get your License by filling out an application form before an in person meeting with the City Clerk that you both must attend together. The Clerk's Office holds a limited number of meetings online. If your plan is to get your License the day before your wedding, please remember that the Clerk's Office is closed on weekends and holidays, and that you can't hold your ceremony for a full 24 hours from the time stamped on your License.

You will need to make an appointment for your meeting with the Clerk. You can make an appointment to get your marriage license online through the Clerk's Project Cupid portal no matter which borough office you plan to go to. The NYC Clerk currently opens new appointments for Marriage Licensing three weeks in advance, every Monday at 9:00 AM. If that all seems like a lot of calculating to figure out when you can get your Marriage License, we've done all of the work for you below:

HOW TO USE THE MARRIAGE LICENSE CALENDAR
Find your wedding date on the calendar below. On the same line You will find the first day and last day in the 60 day window when you can get your License. The first day that you can make an appointment for a meeting during your wedding date window is also listed.

Note: Weekends and holidays, when the Clerk's Office is closed, are accounted for in the calendar. However, the Clerk reserves the right to change the release of new appointment dates without notice, and these changes happen most often around holiday time.
September 2023 Weddings
October 2023 Weddings
November 2023 Weddings
December 2023 Weddings
January 2024 Weddings
February 2024 Weddings
March 2024 Weddings
April 2024 Weddings
May 2024 Weddings
June 2024 Weddings
Allow Our Wedding Officiant NYC to be a part of your special day as your begin your long and happy life together.

Contact Peter directly at peter@ourweddingofficiantnyc.com, or fill out the form below:
serving the five boroughs of
new york city
manhattan
•
brooklyn
•
bronx
•
queens
•
staten island
(
westchester
,
long island
and
new jersey
, too!)