Congratulations On Your Upcoming Wedding!
Peter Boruchowitz registered wedding officiant, ordained clergyman, secular celebrant
"Peter's warmth, charm and impeccable public speaking skills set him apart from the other officiants we were considering." - Justine (wedding: 6/12/21)
Your perfect wedding starts with your perfect ceremony®. It's traditional or modern, spiritual or secular, short & sweet, or a reflection of your cultures. Or mix and match! You can have exactly what you want, and it will always be memorable, meaningful and respectful of your values.
Whether you choose an intimate elopement in New York City's Central Park, a candle-lit house of worship filled with family and friends, a grand wedding at your reception venue with hundreds of guests, or a private ceremony at your home, let me share in your hopes and dreams and make your day the best it can be.
" Peter is detailed, efficient, and knowledgeable in each interaction throughout the ceremony-planning process." - Amber (wedding: 8/26 /21)
If you're having an intimate elopement, the ceremony is everything. If you're having a grand affair, the ceremony is the reason for the party. So take a moment to imagine your ceremony. I believe your wedding ceremony should match your wedding day vision.
Few couples consider their wedding ceremony until they hire an officiant, so there's no need to stress. As your officiant, I will create a ceremony that reflects your relationship, as you define it. I am passionate that each Wedding Ceremony is as distinctive as each couple.
The only element that is legally required in your New York wedding ceremony is that you actually say "I do", or any other verbal form of "yes", as consent to enter into your marriage. Everything else that happens is up to you. Therefore, should you choose, I welcome your participation in preparing your ceremony. Whether you write your own vows or select from my diverse library of spiritual and civil ceremonies, I will compose all those feelings that are often difficult to express in words into a pronouncement of love uniquely for your wedding day.
Wedding Ceremony Choices
" Peter kept tradition and love alive in our ceremony. He was able to craft a ceremony that weaved in elements from both our faiths with a modern twist. Bring your tissues when Peter delivers the ceremony." - Luke (wedding: 12/9/20)
Many couples don't know all of the options they have in planning a wedding ceremony. You can choose to have a religious, an interfaith, a spiritual, but secular, or a civil ceremony. You can choose to include traditional cultural rituals, modern unity rituals, or even make up your own. Maybe you want to include readings or have a role in the ceremony to include close friends or family members. You might want to write your own vows. You might even be asking, "Why would I want to do all that?" As your wedding officiant, I will answer all of your questions and guide you through your choices. While we discover what makes your perfect wedding ceremony, remember that there is no right or wrong.
Get Started On Your Wedding Ceremony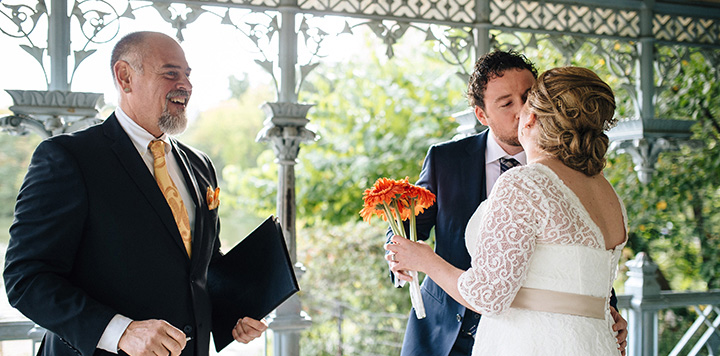 "Having Peter as our officiant may have been one of the best decisions we could have made. We are still receiving compliments from everyone who witnessed our ceremony!" - Alicia (wedding: 4/18/21)
Call me, email me, or fill out the form below to find out if I'm available on your wedding day. We can plan to meet in person, via skype or on the phone. Then, tell me your love story, and I will create and perform a marriage ceremony that will be the heart of your wedding day.
Be sure to read my reviews to see what other couples say about my officiant services, and check out my answers to questions I'm asked all the time.
Our Wedding Officiant NYC's weekday services begin at $600. For a comprehensive look at services and costs, please refer to our fee page.
Allow Our Wedding Officiant NYC to be part of your special day. Delayed and postponed 2021 weddings have resulted in unusually high advanced bookings for 2022, so please check our availability early. To accommodate couples' expanded wedding planning timeframes, we are now accepting bookings through the entire 2023 calendar year.
Meet NYC Wedding Officiant Peter Boruchowitz
INTRODUCING SIDEWALK SIGNINGS!
While the New York City Clerk is once again performing weddings at all Marriage Bureau locations, appointments are limited. This has left many couples without a simple, affordable way to legalize their marriages. Born of necessity, but extended by popular demand, Our Wedding Officiant NYC will continue to sign your license in person, outdoors on 23rd Street near 8th Avenue, on weekdays by appointment only.

SIDEWALK SIGNING   $150
You come to 23rd Street and Eighth Avenue
No ceremony.
  simple "I do's"
  optional ring/vow exchange.
  Pronouncement of marriage.
  License signing.
Please limit your guests to 1 or 2 witnesses.
Weekdays only.
By apponitment only.
Rain or shine.

Our Wedding Officiant NYC has resumed performing in person weddings at all venues. Continuing safety protocols will be discussed with each couple when you call to book your wedding. To check our availability, call Peter, email directly at peter@ourweddingofficiantnyc.com
or fill out the form below.
Our Wedding Officiant NYC is honored to continue being here for you !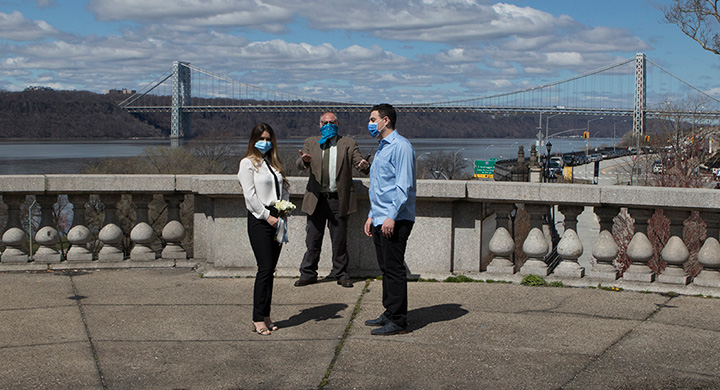 Our Wedding Officiant NYC is proud to have been of service to engaged couples throughout these times, first with masked, socially distanced outdoor weddings, then with online weddings, and now with Sidewalk Signings. We've been happy to make sure that "love wins" for the hundreds of couples whose wedding plans were upended by circumstances they could not control, and with the return of indoor weddings, we are thrilled to be here for you!