Congratulations On Your Upcoming Wedding!
Peter Boruchowitz registered wedding officiant, ordained clergyman, secular celebrant
"Peter's warmth, charm and impeccable public speaking skills set him apart from the other officiants we were considering." - Justine (wedding: 6/12/21)
Your perfect wedding starts with your perfect ceremony®. It's traditional or modern, spiritual or secular, short & sweet, or a reflection of your cultures. Or mix and match! You can have exactly what you want, and it will always be memorable, meaningful and respectful of your values.
Whether you choose an intimate elopement in New York City's Central Park, a candle-lit house of worship filled with family and friends, a grand wedding at your reception venue with hundreds of guests, or a private ceremony at your home, let me share in your hopes and dreams and make your day the best it can be.
" Peter is detailed, efficient, and knowledgeable in each interaction throughout the ceremony-planning process." - Amber (wedding: 8/26 /21)
If you're having an intimate elopement, the ceremony is everything. If you're having a grand affair, the ceremony is the reason for the party. So take a moment to imagine your ceremony. I believe your wedding ceremony should match your wedding day vision.
Few couples consider their wedding ceremony until they hire an officiant, so there's no need to stress. As your officiant, I will create a ceremony that reflects your relationship, as you define it. I am passionate that each Wedding Ceremony is as distinctive as each couple.
The only element that is legally required in your New York wedding ceremony is that you actually say "I do", or any other verbal form of "yes", as consent to enter into your marriage. Everything else that happens is up to you. Therefore, should you choose, I welcome your participation in preparing your ceremony. Whether you write your own vows or select from my diverse library of spiritual and civil ceremonies, I will compose all those feelings that are often difficult to express in words into a pronouncement of love uniquely for your wedding day.
Wedding Ceremony Choices
" Peter kept tradition and love alive in our ceremony. He was able to craft a ceremony that weaved in elements from both our faiths with a modern twist. Bring your tissues when Peter delivers the ceremony." - Luke (wedding: 12/9/20)
Many couples don't know all of the options they have in planning a wedding ceremony. You can choose to have a religious, an interfaith, a spiritual, but secular, or a civil ceremony. You can choose to include traditional cultural rituals, modern unity rituals, or even make up your own. Maybe you want to include readings or have a role in the ceremony to include close friends or family members. You might want to write your own vows. You might even be asking, "Why would I want to do all that?" As your wedding officiant, I will answer all of your questions and guide you through your choices. While we discover what makes your perfect wedding ceremony, remember that there is no right or wrong.
Get Started On Your Wedding Ceremony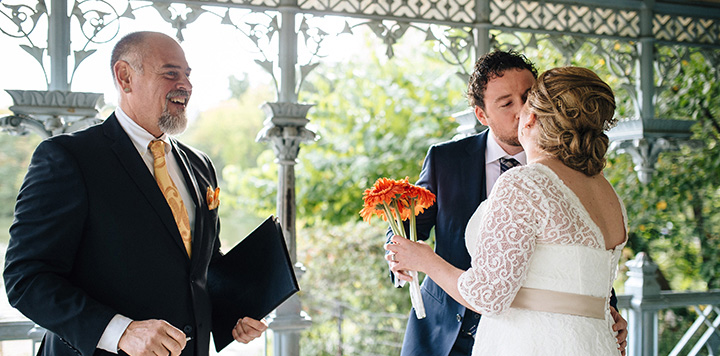 "Having Peter as our officiant may have been one of the best decisions we could have made. We are still receiving compliments from everyone who witnessed our ceremony!" - Alicia (wedding: 4/18/21)
Call me, email me, or fill out the form below to find out if I'm available on your wedding day. We can plan to meet in person, via Zoom or on the phone. Then, tell me your love story, and I will create and perform a marriage ceremony that will be the heart of your wedding day.
Be sure to read my reviews to see what other couples say about my officiant services, and check out my answers to questions I'm asked all the time.
Our Wedding Officiant NYC's weekday services begin at $600. For a comprehensive look at services and costs, please refer to our fee page.
Allow Our Wedding Officiant NYC to be part of your special day. We are now accepting bookings through the entire 2024 calendar year.
Meet NYC Wedding Officiant Peter Boruchowitz
SIDEWALK SIGNINGS CONTINUE BY POPULAR DEMAND!
"We met with Peter for a little Sidewalk Ceremony with my brother and sister as our witnesses. It was perfect! Exactly the simple and wonderful ceremony we could've asked for." - Kelly (wedding: 9/22/22)
While the New York City Clerk is once again performing weddings at all Marriage Bureau locations, appointments are limited. This has left many couples without a simple, affordable way to legalize their marriages. Born of necessity, but extended by popular demand, Our Wedding Officiant NYC will continue to sign your license in person, outdoors on 23rd Street near 8th Avenue, by appointment only. Sidewalk signings have been a practical option for couples who can't get to the NYC Clerk's office for a wedding ceremony during their limited business hours.

SIDEWALK SIGNING   $150
You come to 23rd Street and Eighth Avenue
No ceremony.
  simple "I do's"
  optional ring/vow exchange.
  Pronouncement of marriage.
  License signing.
Please limit your guests to 1 or 2 witnesses.
By apponitment only.
Rain or shine.

Our Wedding Officiant NYC has resumed performing in person weddings at all venues. To check our availability, call Peter, email directly at peter@ourweddingofficiantnyc.com or fill out the form below.
MARRIAGE LICENSE UPDATES
A valid marriage license is required for your wedding ceremony to be legal. There have been many changes in the last couple of years to the procedure for obtaining your license in New York City, some of them permanent. We strive to provide you with the most up to date information below:
How Do We Get a New York Marriage License ?
"Our wedding was one of the most wonderful experiences in our lives thanks to Peter. The entire night was filled with love from start to finish and he captured the pure essence of who we are and the joy in our lives." -Jeffery (wedding: 4/27/14)
All of the New York City Clerk's Marriage Bureau Offices are now open and making appointments for in person licensing and in person weddings via the online Project Cupid portal only. Appointments are required, and walk-in service is no longer allowed. Couples can still choose to make an appointment to receive their Marriage License by videoconference. No matter which choice, you MUST still make your appointment online via the app.

Marriage Licenses are issued by your town or city clerk on behalf of New York State, so any license obtained in the state is valid in New York City. The current fee for a marriage license is $35 in NYC and $40 outside of the 5 boroughs.

Since marriage licenses issued anywhere in New York State are valid everywhere in New York State, some couples have told us that they were able to get more convenient appointments for marriage licenses with Clerks' Offices in Westchester and Nassau counties (Update: Almost all City and Town Clerks in New York State are issuing marriage licenses by appointment only. Some offices limit licenses to county or town residents). If this option might be for you, you can find contact information on our list of Town and City Clerks New York State.
In NYC, you MUST now make an appointment online to get your marriage license through the Clerk's Project Cupid portal no matter which borough office you plan to go to. You can choose to have your appointment in person at any borough office, or online virtually. Whichever you choose, you will still both need to be present together, with valid identification, to complete the process. (If you've previously been married, be prepared to provide your final divorce decree.) The online application is valid for 21 days before it expires. If you don't make it to the Clerk's office in that time, you can reapply online. We recommend that even if you choose an in-person appointment, you fill out the application online, as our couples who have used it report speedy service from the Clerk.
In neighboring counties, Town and City Clerk's office hours vary widely. Please check with your local government for locations and hours. Acceptable forms of identification also vary. You can find links to your Town or City Clerk's offices for Westchester, Rockland, Orange, Putnam, Nassau and Suffolk Counties here.
How Do We Get An Appointment With the NYC Clerk?
You should plan to make your appointment with the Clerk's office at least two weeks in advance. The NYC Clerk currently opens new appointments for Marriage Licensing three weeks in advance, every Monday at 9:00 AM for in-person appointments and every Thursday at 9:00 AM for online appointments. For in-person services, choose your borough location from the drop-down menu after you select the service you desire. Mondays and Fridays are the most popular days for appointments, and they usually are filled the quickest.
UPDATE:
IN-PERSON appointments are now available through 9/29/23.
ONLINE appointments are now available through 9/22/23.
To schedule online appointments, you must register with the Clerk first (see "How does the NYC Online Marriage License System Work?" below). Online appointments currently seem to be less available, so plan ahead. Don't forget that during your video conference with the Clerk, both of you must be present together on the same screen and you will need to be physically located in New York State.
The Clerk suggests that couples who haven't received an apponitment check back frequently, as cancellations are added to site as they occur. The Clerk reserves the right to change the release schedule without prior notice.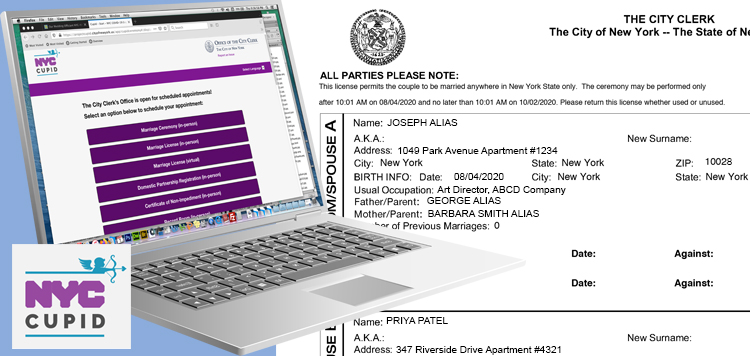 1. Complete the existing
online marriage license application
and get your confirmation number.
2. Create a NYC.ID account at the
Project Cupid link
and get verified online.
3. Pay the $35 license fee, and schedule an online meeting with the City Clerk. Both parties to the marriage MUST be together and MUST be in New York State for your online meeting.
4. Have your wedding ceremony.
5. Your wedding officiant will send your signed license to the City Clerk.
More information is available on the City Clerk's updated
FAQ page
.
When Should We Get a New York Marriage License?
You should get your license at least 24 hours and up to 60 days before you plan on holding your ceremony. Licenses expire after 60 days throughout New York State. Appointments with the New York City Clerk currently schedule about 2 to 3 weeks ahead of time, so include that in your plan.

If that all seems like a lot of calculating to figure out when you can get your Marriage License, we've done all of the work for you on our Marriage License Calendar.
Where Do We Get a Marriage License in NYC ?
There is a New York City Clerk's Office in every borough where you can get your Marriage License. The City Clerk's Office IS NOT OPEN ON WEEKENDS OR HOLIDAYS.
Can We Get a Marriage License from Our Wedding Officiant℠ ?
No. In New York State, only a City Clerk or Town Clerk can issue a marriage license.
Can We Get Married the Same Day We Get Our Marriage License ?
No. No matter where in New York State you get your license, you must apply for it together with your intended spouse. THERE IS A 24 HOUR WAITING PERIOD from the time you receive your license to the time you may hold your wedding ceremony.
How Long Does It Take To Get the Marriage Certificate ?
You will NOT receive a certificate of marriage from your wedding officiant right after your ceremony.  Your wedding officiant will return your signed license to the Clerk's office for you. Usually it takes about two weeks for the documentation to be sent to you from the City.  If you need documentation sooner than that, you should discuss this with the Clerk when you apply for your License.>
For more information, call Peter,
email directly at peter@ourweddingofficiantnyc.com
or fill out the form below:
serving the five boroughs of
new york city
manhattan
•
brooklyn
•
bronx
•
queens
•
staten island
(
westchester
,
long island
and
new jersey
, too!)